East Tsim Sha Tsui, Kowloon
Starts : February 10th, 2023
Ends: March 15th, 2023
The Beast of Dufftown invites you to the dark side of Speyside with "The Midnight Secrets" experience at K11 MUSEA, presenting you enjoyment far beyond the level of taste.
Known for its unconventional 2.81 distillation process created two centuries ago, Mortlach proudly produces Speyside's boldest whisky for discerning drinkers across the globe. "The Midnight Secrets" introduces the label's master craftsmanship and distinguishable flavors through a symphony of art, history and gourmet sampling, all at the comfort — and luxury — of K11 MUSEA.
Step into the 2/F Gold Ball to witness the breathtaking intricacy of K11 Art Foundation artist Jiayu Liu's Layer upon Layer immersive digital art installation, then head to the Mortlach pop-up bar for the rejuvenation of the famous 12-year-old 2.81 distilled Mortlach Single Malt whisky. For those still yearning for more, Artisan Lounge offers discoverers two whiskey pairing sets with savory or sweet canapés, each priced at HK$268 per person.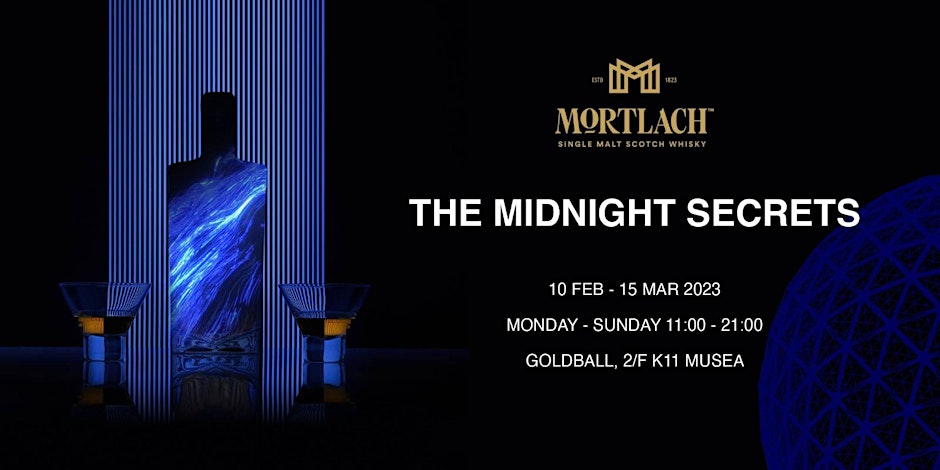 When? February 10 – March 15, 2023
Where? K11 MUSEA, 18 Salisbury Road, Tsim Sha Tsui
Limited spots are available, RSVP for "The Midnight Secrets" experience by Mortlach here.
---
See more upcoming events here.
Subscribe to our weekly newsletter as we cover the Best of Hong Kong.